Are you addicted to shopping? While such question may seem staggering to some individuals, down to the everyday norm that shopping is, as an action and necessity, compulsive, uncontrollable shopping habits are encountered by some.
To be addicted to shopping means that purchasing items, even when they are unnecessary when they are consequential, and when they incur emotional and financial issues, is indefinite.
While implications are very common, down to the strength that behavioural addictions usually carry, withdrawing from online shopping or tangible purchases can be extremely tough.
As addiction as a whole is a brain condition, which ingrains itself to the point that physical and psychological damages are expected, professional intervention is required.
If you're living with extreme debt due to obsessive shopping, if you're hiding your shopping habits from loved ones, or if you're suffering down to your behaviours, shopping addiction treatment & rehab will be a required step.
From physical detox from shopping activity and exposure, to understanding the importance and driving force of your shopping habits, physical and psychological treatment & rehab programmes will be recommended. Source such support, for quite a misunderstood and niche addiction here at Addiction Advocates.
If you're asking yourself 'am I addicted to shopping?', it's time to consider a professional evaluation, recommendations, and rehabilitation.
Get In Touch
Are you suffering from Shopping Addiction and need help? Addiction Advocates are leading UK based experts in Drug Addiction and Rehabilitation Treatment. Find out how we can help by getting in touch with our friendly team today.
Is shopping addiction real?
While such behavioural habits may be viewed as less serious, damaging, and invasive when compared with common addictions, shopping addiction is real. It's where shoppers behave compulsively and obsessively, with little control, through the means of online or tangible shopping encounters.
Caused by a range of stimuli, behavioural addictions can result from genetics, environments, social pressures and from positive reinforcements. Yet mostly found through shopping addictions is the influence of emotional fulfilment that such action offers.
Developing a routine, a cycle and a rollercoaster of expected emotions are common through a shopping addiction.
Shopping is the means that provides pleasure and blocks out emotional spirals. Yet through bulk buying, wiping out credit cards and dipping into savings, such actions can soon turn into financial consequences, once again triggering emotional responses.
To onlookers, experiencing a shopping addiction may seem unlikely. Yet, like other addictions and their development phase, shopping will be used as a coping strategy, will be favoured for the personal reinforcement it offers, and will fulfil cravings and needs.
However, through ongoing enablement, shopping addiction treatment & rehab will soon be required, down to how rapid, excessive, and obsessive the routine of shopping can become.
Shopping is so accessible that addictions can be fulfilled with a click of a button. If you're struggling to control your exposure to such outlets, shopping addiction treatment and rehab services will be beneficial, to curb, change and grow from such outlets.
Signs and symptoms of shopping addiction
Splurging now and again may feel wrong. Yet if it's justifiable and doesn't incur lasting impacts on your emotions, mental health and finances, such actions will be manageable.
Yet if you're experiencing the below symptoms, a shopping addiction, standing as a behavioural problem may be present, causing you to act irrationally towards unnecessary purchases.
Signs and symptoms of shopping addiction include:
Consistently purchasing unnecessary items
Shopping with the knowledge of impending consequences
The inability to stop purchasing
Hiding shopping habits or debt
Experiencing financial implications down to excessive shopping
Requesting credit or sources of income to purchase items
Impulsive shopping, without any justification
Seeing shopping as a coping strategy
Serious implications of shopping, such as legal or financial issues
Mental health implications, down to compulsive behaviours
Lacking funds for important areas/responsibilities in life, for example, rent, mortgage or food, over materialistic or irrational purchases
Signs and symptoms of shopping addiction are very different to other behavioural addictions as it's a niche, direct action. You'll either understand whether you shop with intent and justification, or whether your impulsive purchases are affordable and sustainable.
In the event that your shopping habits are out of control, are extremely illogical and are impacting your livelihood, considering shopping addiction treatment & rehab will be wise at this point.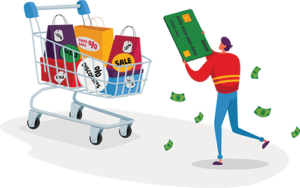 Shopping addiction treatment & rehab
As shopping addiction can become extremely serious, professional support is an encouraging step to accept. Shopping addiction treatment & rehab should more than suffice, offering interventive steps to understand addiction, taper back exposure, manage triggers, and develop new outlets of pleasure and coping.
Through our support services at Addiction Advocates, we can help you find a rehabilitation centre, offering suitable behavioural addiction treatments, effective within compulsive shopping habits.
How to stop a behavioural addiction through treatment
A behavioural addiction will need to be worked through by completing treatment. Treatment will act as a detox, as a regulator and as a management tool, to help reduce and stop shopping habits.
Therapy will be the most effective form of treatment, such as cognitive behavioural therapy and dialectical behavioural therapy. Each will work to understand the compulsion behind shopping habits, with the aim to adapt emotional regulators, along with how to control the urge of such compulsion.
While it will take time to work through programmes of therapy, each step will help to increase awareness, education, management, and relapse prevention efforts of shopping addiction recovery.
In tandem with therapy, prescription medications may be recommended, however, this will be dependent on whether any secondary emotions are contributing to or aggravating a shopping addiction.
Pre-existing mental health issues or secondary forms are found to be attached to compulsive shopping, requiring dual diagnosis treatment.
Shopping addiction treatment will therefore be personal, suitable, and safe to work through the underlying causation of and ongoing fuel of obsessive, reinforced behaviours.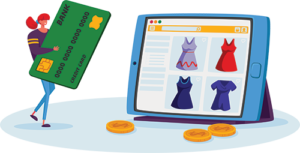 Completing comprehensive rehab
Alongside independent treatment, a comprehensive rehab programme will need to be completed to recover on physical and psychical depths from shopping addiction. While such actions are controlled in the brain, they will display through physical behaviours and choices, controlling shopping habits and routines.
Rehab will help to treat addiction holistically while combining necessary steps of recovery to deter future episodes of habitual shopping.
Shopping addiction treatment & rehab will be necessary for the event of obsessive behaviours, surrounding purchases. No matter what you're purchasing, if it's negatively impacting your life, support will be required.
While very niche and misunderstood, to be addicted to shopping is in fact real and encountered by many individuals, especially through online means. If you're struggling, see how our support can help you access quality shopping addiction treatment & rehab./div>
I came to you desperate, feeling so depressed and anxious. I left feeling hopeful and grateful and excited about life. I can't believe the change in just 28 days.
Get Help Now: 0800 123 4567
Get Help Now
Latest News

Poor mental health rates are actively increasing across the globe. While more and more individuals find themselves encountering the signs and symptoms of common
What We Offer
Free Telephone Assessment
This is done to assess what sort of help is needed so we can recommend an addiction treatment service that can provide the best help possible.
All calls are strictly confidential and are carried out by a trained healthcare professional.
No obligation recommendations are made after a full assessment of yourself or loved ones situation is fully made.
Recommendations include specialist addiction treatment programmes in CQC regulated facilities based throughout the UK.
If you are unable to afford private treatment then public healthcare and charities would also be recommended to you.
How We Can Support You
We have a large number of helpful services available to help give you the best possible support when it comes to dealing with addiction.
Just some of the services we can offer includes:
Free confidential telephone assessment
Recommending CQC regulated residential addiction treatment providers
Arranging for an intervention, if needed
Insights into how different therapies and evidence based treatments work
How detoxification works and what is the most safest option
What type of rehab and detox programmes would be best suited for yourself or loved one
Recommendations of the best providers in your area
Why Choose Us?
We can help take the stress out of finding an addiction treatment provider by recommending only the best options available that fully suits your criteria.
The help and advice we can provide includes making sure that your journey towards recovery is one that can definitely be achieved.
Taking the step towards recovery can be incredibly tough but we are here to put your concerns at ease by giving you insights into the safety of undertaking residential addiction treatment and how it can put you on the path towards long lasting recovery from addiction.
Our team of advisors have extensive experience and knowledge about the subject of addiction and the treatment provided so if you have any questions then they will be more than happy to help.
Get started today by calling our friendly team today on 0800 012 6088.
How We Help
Finding the right treatment for your addiction can be difficult this is why we have created a service which takes the stress away which can be a massive relief when dealing with an addiction.
Self Referrals
Suffering with an addiction and being alone can be a horrific scenario for many. Whether you have a drug or alcohol addiction, we're here to help. Help Yourself
Family Referrals
Do you have concerns that a loved one may be affected by substance misuse? Have you spotted any signs and symptoms of a drug and alcohol… Help a Relative
Friend Referrals
Are you worried that a friend's alcohol or drug consumption has become out of control? For many individuals, substance abuse starts unintentionally… Help a Friend