The internet and its embedded content are at our disposal 24/7. It's highly accessible, it's universal and it is now ranked as addictive.
From the pressures of maintaining online connectivity, to the motions of scrolling, searching and being in the know, to the role that internet activity can take up throughout mental health struggles, the diagnosis of an internet addiction is real.
Absurd to some, asking oneself 'am I addicted to the internet?' may in fact be necessary. Many individuals, especially of younger generations display signs of addiction, through the means of the internet, struggling without some form of exposure to search engines, social media, and connective platforms.
Like other addictions, being fixated to the internet can cause physical and psychological concerns. The development of mental health issues is highly correlated. Isolation, the risk of experiencing further behavioural addictions, and neurological problems are all linked to excessive, unsustainable internet consumption.
If you're feeling stuck to the online world that the internet drives, it's time to look at your screen time and online habits.
Through our help here at Addiction Advocates, we can help you understand the realism of internet addiction, while also assisting you to find optimal support. Through internet addiction treatment & rehab, curbing your exposure can be possible, allowing the internet to sit untied to your tangible, authentic life.
Get In Touch
Are you suffering from Internet Addiction and need help? Addiction Advocates are leading UK based experts in Drug Addiction and Rehabilitation Treatment. Find out how we can help by getting in touch with our friendly team today.
Is internet addiction real?
Yes, being addicted to the internet, the content that it circulates, and the asset of its offering is a real diagnosis. An addiction can attach to any stimulus, which provides positive reinforcement or fills a role throughout vulnerability.
The internet may be used as an escape for some individuals, from the monotonous motion of life, from isolation or from physical relationship problems. Social media networks, connective platforms and immersive experiences offer outlets of support, community and of distraction.
However, existing so heavily across the internet can adapt behaviours, attitudes, routines and prioritise, soon turning into internet addiction.
Not all individuals will understand and appreciate the severity of internet addiction, as it's a recent medical connection, down to the mass adoption of the internet. Yet it is most definitely a driving force of toxic and unhealthy habits, forming behavioural addictions.
Where fixations to the internet exist, internet addiction treatment & rehab will need to be completed, as internet exposure will forever be accessible, increasing the need for management and a switch in outlook.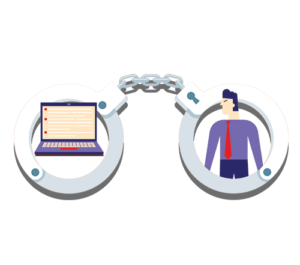 Causes of internet addiction disorder
Internet addiction is classed as an impulse control disorder, where desires to continuously be exposed to the internet are high. The impulsiveness and obsessiveness of such behaviours make it very difficult to move away from such an accessible stimulus.
Similarly, to alternative behavioural addictions, genetics, environments, predisposed risks of addiction, mental health issues and connectivity problems can all cause an internet addiction disorder.
However, a key driving force down to the pressures across the community side of the internet, known as social media networks, is the demand to be available. As the internet responds on a 24/7 basis, utilising its virtual assets, users are feeling consumed by such accessibility.
Scrolling, engaging, portraying ideologies, building up a community and comparing others are all excessive behaviours linked to internet usage. Such pressure can not only amount to internet addiction but also secondary symptoms of depression, anxiety, comparison disorders and body dysmorphia.
Behavioural vulnerabilities and personality traits can also amount to internet addiction, down to isolation, loneliness, and challenges with physical communication. In this instance, pre-existing vulnerabilities will usually be attached to the risk of addiction, where the internet will be used as a coping strategy.
The internet is an outlet for many different actions. Alone It can influence shopping, social media, gambling addictions, and many others, including mental health issues. This showcases how real and how damaging internet addiction can be, from the multitude of uncontrollable influences which reside on the internet.
If you're struggling to log off, if you're constantly looking on social media, if the internet is fuelling further negative behaviours, if your time is consumed by the internet, deterring other areas of your life, internet addiction treatment & rehab will be encouraged.
How to control internet addiction?
Internet addiction will be very difficult to control without professional support, as the internet is so accessible.
Even if screen time intentions are reduced, the internet is everywhere and has a big part in life itself, from purchasing items to communicating with loved ones across the globe and online studying.
Down to this, it's very important that such behavioural addiction is dealt with adequately before further issues develop.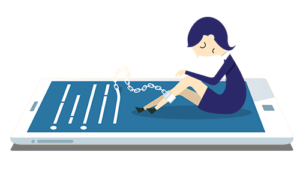 Internet addiction treatment & rehab services
Through internet addiction treatment & rehab services, reducing the impacts of the internet will be possible, while also managing relapse prevention planning. Understanding the role that the internet plays and the causation of addictive behaviours will be paramount. From here, treatment services suitable for such causations will be recommended.
Therapy is one of the most effective internet addiction treatments, experienced through rehab, to alleviate the emotional and psychological strains that addiction induces. Cognitive behavioural therapy, support groups, family therapy, dual diagnosis treatment and further self-development processes are highly suitable to treat internet addiction.
Exposure therapy will also be recommended throughout the rehab process to test and observe internet stimuli, in order to develop relapse prevention planning.
As the internet hosts many different resources and outlets, it's vital to complete a comprehensive programme of treatment, to ensure that each influence can be worked through. Without this approach, the inevitable exposure to the internet may trigger future addictive behaviours for you.
Managing symptoms of addiction
At Addiction Advocates, we can provide you with direction towards suitable forms of internet addiction treatment & rehab. We can also offer guidance with preparing for rehab, along with post-rehab transitions.
An important area to focus on is the management of your addiction. While you can work to uncover and diminish your triggers, as the internet is an adopted, established platform, it will remain, meaning that you will need to learn to live with such exposure.
Managing your symptoms will therefore be key, through lifestyle choices, boundaries, working on your tangible life and minimising the use of the internet throughout your everyday reality.
Such efforts, combined with internet addiction treatment & rehab can help to alleviate such an impactful yet overlooked addiction, virally impacting users. Work through yours with our support, offering routes into a private rehab.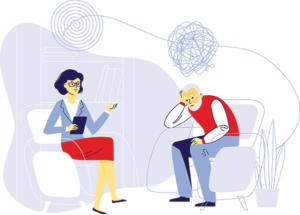 I came to you desperate, feeling so depressed and anxious. I left feeling hopeful and grateful and excited about life. I can't believe the change in just 28 days.
Get Help Now: 0800 123 4567
Get Help Now
Latest News

Poor mental health rates are actively increasing across the globe. While more and more individuals find themselves encountering the signs and symptoms of common
What We Offer
Free Telephone Assessment
This is done to assess what sort of help is needed so we can recommend an addiction treatment service that can provide the best help possible.
All calls are strictly confidential and are carried out by a trained healthcare professional.
No obligation recommendations are made after a full assessment of yourself or loved ones situation is fully made.
Recommendations include specialist addiction treatment programmes in CQC regulated facilities based throughout the UK.
If you are unable to afford private treatment then public healthcare and charities would also be recommended to you.
How We Can Support You
We have a large number of helpful services available to help give you the best possible support when it comes to dealing with addiction.
Just some of the services we can offer includes:
Free confidential telephone assessment
Recommending CQC regulated residential addiction treatment providers
Arranging for an intervention, if needed
Insights into how different therapies and evidence based treatments work
How detoxification works and what is the most safest option
What type of rehab and detox programmes would be best suited for yourself or loved one
Recommendations of the best providers in your area
Why Choose Us?
We can help take the stress out of finding an addiction treatment provider by recommending only the best options available that fully suits your criteria.
The help and advice we can provide includes making sure that your journey towards recovery is one that can definitely be achieved.
Taking the step towards recovery can be incredibly tough but we are here to put your concerns at ease by giving you insights into the safety of undertaking residential addiction treatment and how it can put you on the path towards long lasting recovery from addiction.
Our team of advisors have extensive experience and knowledge about the subject of addiction and the treatment provided so if you have any questions then they will be more than happy to help.
Get started today by calling our friendly team today on 0800 012 6088.
How We Help
Finding the right treatment for your addiction can be difficult this is why we have created a service which takes the stress away which can be a massive relief when dealing with an addiction.
Self Referrals
Suffering with an addiction and being alone can be a horrific scenario for many. Whether you have a drug or alcohol addiction, we're here to help. Help Yourself
Family Referrals
Do you have concerns that a loved one may be affected by substance misuse? Have you spotted any signs and symptoms of a drug and alcohol… Help a Relative
Friend Referrals
Are you worried that a friend's alcohol or drug consumption has become out of control? For many individuals, substance abuse starts unintentionally… Help a Friend