Down to the accessibility that the internet has provided, gaming is now a universal hobby, pastime, and activity, which offers immersive, virtual communities and worlds.
While it's a form of relaxation for some, where sensible and sustainable gaming activity is enabled, for others it has however become a constant reinforcer, a motivator of anger and obsessive issues, a negative in relationships and lifestyle management, and a driver of addiction.
Those who do not see the desirability of gaming will not understand the addictive tendencies behind such platforms.
However, where minimal exposure is encountered, paired with a degree of vulnerability, reaching the next level, beating your all-time best or simply seeing gaming as an escape can amount to a behavioural addiction.
Diagnosed as an impulse control disorder, obsessions can develop around partaking in gaming activity, very similar to further virtual addictions, such as gambling and social media fixations.
Exposure to artificial content, to entertainment and to immersive platforms, such as gaming can change behaviours, adapt outlooks, and damage emotional responses.
If you're finding yourself spending a lot of time gaming, if you're encountering negative side effects such as a short fuse, aggression, and irritability, if you're obsessing over your gaming persona, and if such actions are impacting your real life, gaming addiction could be present.
Considering gaming addiction treatment & rehab will be a must, to tackle the positive reinforcement that gaming offers, while working through further behavioural consequences.
Reach out for support here at Addiction Advocates with your gaming problems.
Get In Touch
Are you suffering from Gaming Addiction and need help? Addiction Advocates are leading UK based experts in Drug Addiction and Rehabilitation Treatment. Find out how we can help by getting in touch with our friendly team today.
Why is gaming addictive?
Gaming is an addictive source of entertainment, distraction and release as it impacts emotional responses.
Whether it induces happy chemicals, whether it relaxes players, whether it heightens motivation and competitiveness, or whether it acts as a means of engagement, emotions are linked to gaming.
When emotions are either heightened, suppressed, or adapted, the risks of mental vulnerabilities are higher. Those vulnerabilities can surround obsessive, compulsive, routine, and habit-like behaviours, perfectly reflecting an addiction.
It's found that many individuals who unfortunately encounter the addictive tendencies of gaming also experience symptoms of mental health issues, in fact simultaneously.
Reasonably, each experience is different, where gaming may have increased the risk of depression or anxiety, down to the whirlwind it creates, or whether such mental health issues create the excessive coping habit of gaming.
Either way, gaming alone is addictive, and especially so when paired with a dual diagnosis of a heightened emotional response.
There are also many addictive parts to gaming, all depending on the personality and the moment of exposure. The competitiveness of it can trigger habitual behaviours, as can the distraction that it offers, as can the community feel that it promotes.
Yet without control, feeling addicted to those encounters, emotions and experiences can trigger an overarching addiction, along with emotional problems, such as aggression issues.
Down to the complex nature of addiction, sourcing gaming addiction treatment & rehab services will be wise, in tandem with dual diagnosis treatment.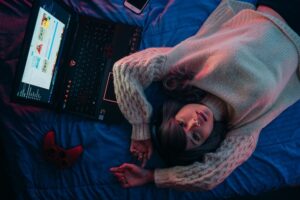 Signs of a gaming addiction
Signs of addiction can transpire through social impacts, psychological changes, and behavioural adaptations. If you're experiencing such symptoms while exposed to gaming, you'll be at risk of developing a behavioural addiction.
Irritability while not gaming, reflecting withdrawal symptoms to some degree
Isolation from others who do not game
Extreme mood changes in general
Strong emotional responses while playing
Spending long bouts of time gaming
Withdrawing from other responsibilities and routines, prioritising your gaming persona
Feeling low after gaming
Using gaming as a coping strategy
Obsessive thoughts while gaming
Spending a lot of money on online gaming
Immersing oneself in gaming
Ultimately, gaming is a hobby for most, unless you're a paid streamer. Otherwise, it shouldn't deter other areas of life, which if it is, consequences are likely, including an addiction diagnosis, requiring the help of treatment and rehab.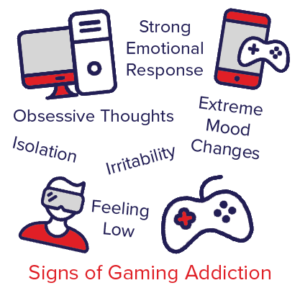 Consequences of excessive gaming
Excessive gaming can develop into further problems, which we've touched on higher up. Mental health concerns are the greatest worry, down to the rollercoaster effects of gaming.
The isolating and withdrawing effects of gaming can also increase the risk of social anxieties, paranoia, and panic, transpiring over to everyday life.
Screen time, to an extensive degree, is also impairing the mind, vision, and overall functionality of the brain. Spending significant amounts of time, concentrating on gaming can be unhealthy, resulting in further conditions.
It's also found that a gaming addiction can develop into aggression problems, the inability to process emotions rationally, false ideas of reality, and the abuse of further coping strategies.
Ultimately, long-term. excessive gaming activity can adapt behaviours to such an unrecognisable state, requiring professional gaming addiction treatment & rehab.
Gaming addiction treatment & rehab
If you're experiencing the signs of gaming addiction, treatment & rehab services will be a positive step for you to complete, which can also address any further behavioural or emotional problems you may be encountering.
You may feel stuck in a vicious cycle where gaming is managing your mental health symptoms yet is also aggravating your addictive behaviours.
At Addiction Advocates, we can help you find the right support.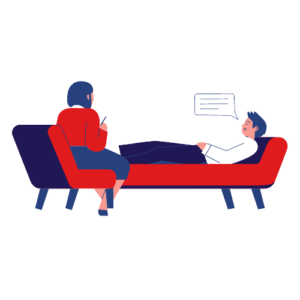 Treatment for gaming addiction
Treatment that will benefit a gaming addiction surrounds psychological development and understanding.
There's a chance you may encounter a sense of withdrawal by completing treatment, which is normal, as change occurs.
Cognitive behavioural therapy, stress management, dual diagnosis treatment and exposure therapy will all work to understand emotional responses and the role that gaming plays for you.
From here therapy will work to digest your emotions and increase your awareness of how to utilise a coping outlet without becoming obsessive.
As gaming surrounds impulse control, working on tolerances and self-help tips surrounding personal boundaries will be helpful, to reduce the effects of gaming for the long term.
Rehab for gaming addiction
Rehab itself will combine gaming addiction treatment, further recovery steps of relapse prevention and wellbeing management to help you cope without gaming.
It's very important to complete a rehab programme with such content to increase your understanding and confidence in addiction recovery.
Gaming may currently feel like a positive experience down to the positive reinforcements it offers. However, it is important to see the realism and consequential possibilities of gaming addiction.
Work with our team at Addiction Advocates to secure gaming addiction treatment & rehab services with suitability in mind. Living with a behavioural addiction can be very tough. Avoid this by considering professional support.
I came to you desperate, feeling so depressed and anxious. I left feeling hopeful and grateful and excited about life. I can't believe the change in just 28 days.
Get Help Now: 0800 123 4567
Get Help Now
Latest News

Poor mental health rates are actively increasing across the globe. While more and more individuals find themselves encountering the signs and symptoms of common
What We Offer
Free Telephone Assessment
This is done to assess what sort of help is needed so we can recommend an addiction treatment service that can provide the best help possible.
All calls are strictly confidential and are carried out by a trained healthcare professional.
No obligation recommendations are made after a full assessment of yourself or loved ones situation is fully made.
Recommendations include specialist addiction treatment programmes in CQC regulated facilities based throughout the UK.
If you are unable to afford private treatment then public healthcare and charities would also be recommended to you.
How We Can Support You
We have a large number of helpful services available to help give you the best possible support when it comes to dealing with addiction.
Just some of the services we can offer includes:
Free confidential telephone assessment
Recommending CQC regulated residential addiction treatment providers
Arranging for an intervention, if needed
Insights into how different therapies and evidence based treatments work
How detoxification works and what is the most safest option
What type of rehab and detox programmes would be best suited for yourself or loved one
Recommendations of the best providers in your area
Why Choose Us?
We can help take the stress out of finding an addiction treatment provider by recommending only the best options available that fully suits your criteria.
The help and advice we can provide includes making sure that your journey towards recovery is one that can definitely be achieved.
Taking the step towards recovery can be incredibly tough but we are here to put your concerns at ease by giving you insights into the safety of undertaking residential addiction treatment and how it can put you on the path towards long lasting recovery from addiction.
Our team of advisors have extensive experience and knowledge about the subject of addiction and the treatment provided so if you have any questions then they will be more than happy to help.
Get started today by calling our friendly team today on 0800 012 6088.
How We Help
Finding the right treatment for your addiction can be difficult this is why we have created a service which takes the stress away which can be a massive relief when dealing with an addiction.
Self Referrals
Suffering with an addiction and being alone can be a horrific scenario for many. Whether you have a drug or alcohol addiction, we're here to help. Help Yourself
Family Referrals
Do you have concerns that a loved one may be affected by substance misuse? Have you spotted any signs and symptoms of a drug and alcohol… Help a Relative
Friend Referrals
Are you worried that a friend's alcohol or drug consumption has become out of control? For many individuals, substance abuse starts unintentionally… Help a Friend