Many will argue that there are worse things to be addicted to than food. This is in fact true when considering the toxic effects and stigmatisation of drug and alcohol abuse.
However, excessive consumption of food, especially of the unhealthy kind can in fact be just as detrimental for the body and mind, principally to the degree of addiction.
To consume food is an everyday action, which we participate in, in order to remain healthy, active, to fuel our bodies and to stay alive. However, normal consumption levels are difficult to stick to for some individuals, this is classed as compulsive overeating.
In fact, recognised as an eating disorder, yet at the opposite end of the spectrum to the likes of anorexia, food addiction is connected to emotional responses and how such stimulus makes the body and mind feel.
For example, those with symptoms of compulsive overeating are at greater risk of mental health issues, where food is viewed as an unknowing coping strategy. As junk food triggers the production of happy chemicals, food is seen as a way to manage mental health symptoms, classed, and used as a future suppressant.
Some will of course argue that food is safer than anti-depressants or further toxic coping strategies. Yet to the extent that food addiction can develop to can place significant pressure on the body, can increase obesity risks and the health concerns that follow can trigger mental health conditions, and can also lead to the other end of the spectrum of anorexia.
With such risks, if you're struggling, it's important to consider food addiction treatment & rehab, which we can secure for you confidentially here at Addiction Advocates. Understand how severe intoxication of unhealthy food can be through rehabilitation.
Get In Touch
Are you suffering from Food Addiction and need help? Addiction Advocates are leading UK based experts in Drug Addiction and Rehabilitation Treatment. Find out how we can help by getting in touch with our friendly team today.
Am I addicted to food?
You may feel silly considering the prospect of experiencing a food addiction. Yet, to experience one is a real diagnosis, heavily linked to mental health vulnerabilities.
While to some individuals, the effects of compulsive overeating will be noticeable and seen as a consequence to adapt their diets, for others, those with an addiction, such consequences will have little impact when motivating change.
The vicious cycle of food addiction can in fact aggravate symptoms. For example, some people overeat to cope with stress. By doing so, health concerns, along with obesity are a common result if enabled over time, which can be difficult to deal with for some from an image perspective.
Such pressures can increase stress, which rebounds the consumption of junk food as an emotional crutch, which again is contributing to food addiction.
It's clear to see how emotionally driven a food addiction can become, where its pleasure and self-medicating assets act as a coping strategy.
Some individuals who rely on food will not be aware of the extent of their problems. They will also feel like their mental health is stable, as within the moment, it may be.
Yet, through spikes or excessive exposure to triggers, food intake, especially unhealthy diets can take over, to manage symptoms of challenges, mental health issues and stress.
Without knowledge of food addiction, many damages can amount with a focus on physical and psychological health. In fact, the opposite to a food addiction can develop if individuals aren't careful, with the attempt to reverse the impacts of compulsive overeating. This is why food addiction treatment & rehab must be taken seriously, to avoid risks of obesity or eating disorders.
Signs of food addiction
Binge eating or routine takeaways are very different to a food addiction, which can be seen through the below symptoms.
While enabling an unhealthy diet may be common for some, once the consequences of weight gain arise, reversing such a diet will be aimed for. However, for someone with a food addiction, such consequences will be overseen, to secure the role that food plays.
Signs of food addiction include:
The inability to stop consuming junk food
Consuming junk food even when consequences are linked
Encountering signs of obesity without any acknowledgement
Physical and psychological health problems down to excessive weight gain and further results of overeating
Depression, paranoia, and comparison disorders
Body dysmorphia, anorexia, or bulimia after long-term food addiction
High blood pressure and cholesterol
Hiding food from others
Reaching for food on an excessive scale through emotional turmoil
Seeing food as a coping strategy
By ignoring the signs of food addiction, many damages can occur to health and wellbeing, which will increase the vulnerability of dual diagnosis. Looking towards food addiction treatment & rehab services will be encouraged to reduce such risks.

The need to treat food addiction
Food addiction treatment & rehab services are encouraged before further damages develop from such actions. The most common damages are linked to obesity and the health complications that follow, down to the pressure that excess weight places on the entire body.
Obesity can also be difficult to digest on a psychological level, which if mental health issues are already encountered through the coping strategy of compulsive overeating, can of course aggravate through long-term consumption.
Such change is found to trigger eating disorders, comparison disorders and body dysmorphia, down to the low self-esteem that's linked to excessive weight gain.
The whirlwind of food addiction can also increase the risks of mental health issues, such as depression and panic, can advance the risk of further behavioural problems, and can place such damage on an individual's wellbeing.
The consequences of such an experience aren't worth it, where positive coping strategies should instead be used. Through food addiction treatment & rehab services, you can be exposed to better ways of coping.
Appropriate food addiction treatment & rehab services
Psychological addiction treatment services will be recommended to work through compulsive overeating. They will work to uncover your causation while changing your outlook on food as a way of coping.
The aim will be to help you develop healthy relationships with food, while also sourcing positive coping strategies to implement throughout emotional responses.
Rehab will also work to help you emotionally and mentally, through dual diagnosis treatment, stress management and dialectical behavioural therapy, to increase your awareness of negative stimuli, and how to work through them.
If you are struggling with further problems, self-acceptance, self-awareness, and self-respect can also be worked towards, to decrease negative images of yourself.
Through food addiction treatment, focus on your lifestyle and wellbeing, and mental health support, rehab can be highly beneficial. Source appropriate food addiction treatment & rehab services with our backing here at Addiction Advocates.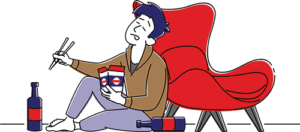 I came to you desperate, feeling so depressed and anxious. I left feeling hopeful and grateful and excited about life. I can't believe the change in just 28 days.
Get Help Now: 0800 123 4567
Get Help Now
Latest News

Poor mental health rates are actively increasing across the globe. While more and more individuals find themselves encountering the signs and symptoms of common
What We Offer
Free Telephone Assessment
This is done to assess what sort of help is needed so we can recommend an addiction treatment service that can provide the best help possible.
All calls are strictly confidential and are carried out by a trained healthcare professional.
No obligation recommendations are made after a full assessment of yourself or loved ones situation is fully made.
Recommendations include specialist addiction treatment programmes in CQC regulated facilities based throughout the UK.
If you are unable to afford private treatment then public healthcare and charities would also be recommended to you.
How We Can Support You
We have a large number of helpful services available to help give you the best possible support when it comes to dealing with addiction.
Just some of the services we can offer includes:
Free confidential telephone assessment
Recommending CQC regulated residential addiction treatment providers
Arranging for an intervention, if needed
Insights into how different therapies and evidence based treatments work
How detoxification works and what is the most safest option
What type of rehab and detox programmes would be best suited for yourself or loved one
Recommendations of the best providers in your area
Why Choose Us?
We can help take the stress out of finding an addiction treatment provider by recommending only the best options available that fully suits your criteria.
The help and advice we can provide includes making sure that your journey towards recovery is one that can definitely be achieved.
Taking the step towards recovery can be incredibly tough but we are here to put your concerns at ease by giving you insights into the safety of undertaking residential addiction treatment and how it can put you on the path towards long lasting recovery from addiction.
Our team of advisors have extensive experience and knowledge about the subject of addiction and the treatment provided so if you have any questions then they will be more than happy to help.
Get started today by calling our friendly team today on 0800 012 6088.
How We Help
Finding the right treatment for your addiction can be difficult this is why we have created a service which takes the stress away which can be a massive relief when dealing with an addiction.
Self Referrals
Suffering with an addiction and being alone can be a horrific scenario for many. Whether you have a drug or alcohol addiction, we're here to help. Help Yourself
Family Referrals
Do you have concerns that a loved one may be affected by substance misuse? Have you spotted any signs and symptoms of a drug and alcohol… Help a Relative
Friend Referrals
Are you worried that a friend's alcohol or drug consumption has become out of control? For many individuals, substance abuse starts unintentionally… Help a Friend